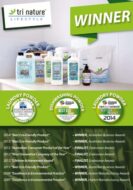 No Compromise
At Tri Nature, we believe that you shouldn't have to compromise on product performance when looking for a natural alternative. Our vast experience in this industry ensures that when you use a Tri Nature product, you are using the very best in all aspects of performance and responsibility.
Manufactured On-Site
Our on-site manufacturing facilities enable us to stand behind the products that you receive with confidence. From formulation to despatch, we strictly control and monitor the quality and content of our products, guaranteeing the integrity of the product that you receive every time.
Premium Quality, Gentle Ingredients
We are a stubborn bunch when it comes to our Company Philosophy and Integrity. This means that we put nothing less than premium quality ingredients into your Tri Nature products, regardless of cost. We firmly believe that we could never put a cost on the health and safety of our families and our environment.
No Animal Testing
The only animals we test our products on are ourselves! At Tri Nature, we respect the rights of all animals great and small. We are active supporters of the "Choose Cruelty-Free" Organisation, and are accredited on their Preferred Products List.